Fiber certification can be challenging. OTDRs are often considered complex to configure and measurement results difficult to interpret but without OTDR testing, fiber installations may be delayed and/or flawed. To help avoid potentially costly mistakes and delays, and to make sure network activation happens right the first time, VIAVI has added two capabilities to its OTDRs:
FTTH-Smart Link Mapper (SLM) takes an OTDR trace and simplifies it to a series of icons representing the fiber network under test. You can toggle instantly between the OTDR trace and SLM views making the reading and interpretation of OTDR results easy.
FiberComplete is a fully automated, bi-directional IL, ORL & OTDR test solution utilising a single test port. This means that you don't have to worry about moving the fiber under test from module to module, port to port, or device to device.
JPM Communications, Inc. is an authorized distributor of Viavi Solutions, Inc.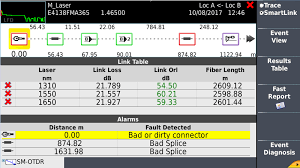 VIAVI FTTH-SLM applications and FiberComplete modules remove the complexity of fiber testing, significantly reducing the time, cost and hassle of testing with multiple devices/ports and providing results that technicians of any skill level can understand.
Already have a VIAVI OTDR? For a free 30-day trial license for FTTH-SLM simply contact us today.